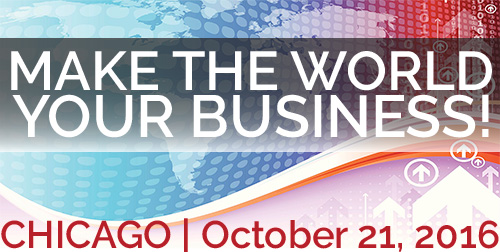 World's Best Global Small Business Forum Held in Chicago 10/21!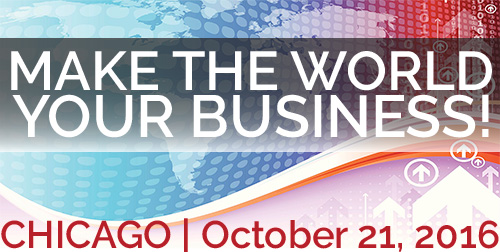 Join us for the world's best Global Small Business Forum 2016 held in Chicago on Friday, October 21st from 7:30 a.m. — 4:30 p.m. Central time at 70 West Madison Street, Chicago, Illinois.
And here's a snapshot of who plans to participate as moderators, panelists and speakers (http://globalsmallbusinessforum.com/speakers-2016/):
Richard Paullin, Executive Director, International Trade Association of Greater Chicago; Chairman, IL District Export Council
Kati Suominen, Founder and CEO, Nextrade Group, LLC
Marc Schulman, President, Eli's Cheesecake Company
Mary Safie, President and Chief Executive Officer, Safie Specialty Foods Company
Chantal Wittman Meier, V.P., International Trade Banking, MB Financial
Peter Darley, Owner, VP & COO, W.S. Darley
Mike Howard, Managing Director for the Central Region of the Business Development Division of the Export-Import Bank
Frank Gogliotti, Project Engineer, Weldy-Lamont
Susan Meyer, Counsel for Nixon Peabody LLP
Philip Pittsford, Chair, National District Export Council
Dennis Foldenauer, Regional Manager, IL and WI, International Trade Finance Specialist U.S. SBA, International Trade, U.S. Export Assistance Center
Constantine Grapsas, CEO and Founder of Automated Industrial Machinery, Inc.
This is the second year of hosting The Global Small Business Forum, which focuses on helping entrepreneurs and business owners expand their businesses internationally.  This year's theme is:  Make the World Your Business!
Special thanks to our Event sponsors:  CEI Importers, MB Financial, TradeUp Fund and Nixon Peabody.  Without their support, this program would not be possible.
Hope you can make it.  Oh, and everyone who signs up gets a copy of my 2nd edition "Exporting" book, that is endorsed by "Good to Great" author Jim Collins. See you there.
To learn more and to register, visit: http://www.globalsmallbusinessforum.com