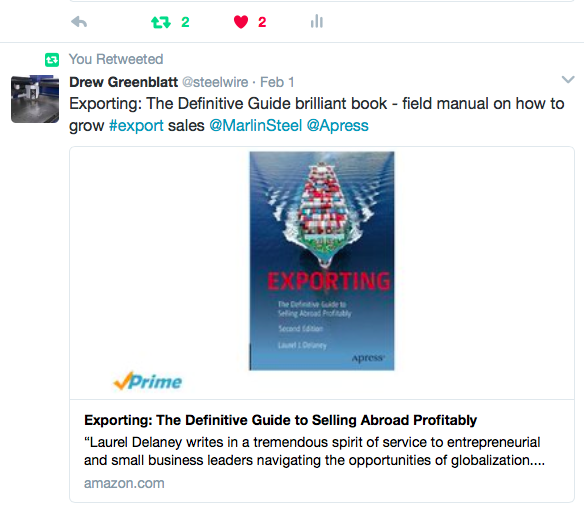 We Love Marlin Steel For Their Explosive Export Growth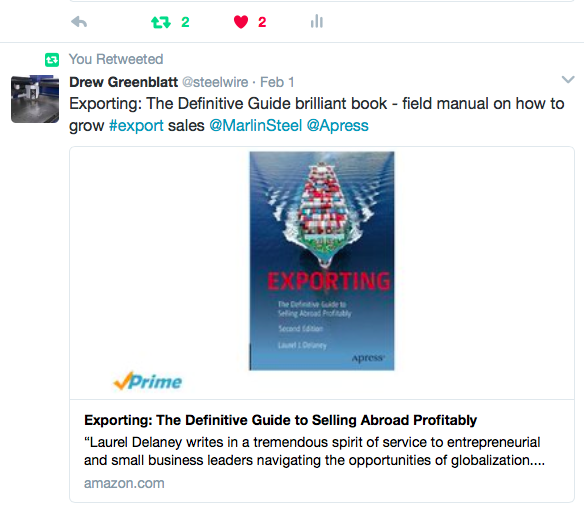 Oh if there is one thing that makes us very, very happy, it's when business owners benefit from our work.  Drew Greenblatt, President of Marlin Steel, and one of the contributors in Exporting:  The Definitive Guide to Selling Abroad Profitably, Chapter 30, Export Success, Tweeted the following:
Exporting: The Definitive Guide brilliant book – field manual on how to grow #export sales @MarlinSteel @Apress https://t.co/iIscGxyiBi

— Drew Greenblatt (@steelwire) February 2, 2017
A big shout-out and thank you to Drew!  Keep your praises coming :-).  That's why we do what we do:  To help business owners expand their businesses internationally.
"We were once a company nearly felled by cheap steel from China.  We're now a thriving business that exports to thirty-six countries," says Drew Greenblatt, president of Marlin Steel (www.marlinsteel.com), about his company's explosion into exporting.
And in case you missed it, see our coverage in Forbes:  How Exporting Can Improve Your Bottom Line